2014 Yamaha Super Tenere ES Sport Touring Eustis FL
$16,190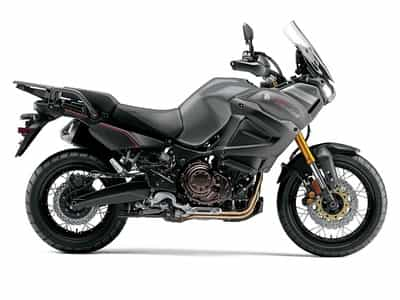 2014 Yamaha Super Tenere ES, 2014 Yamaha Super Ténéré ES The ultimate transcontinental adventurer now better than ever: more powerful inline twin; electronic cruise control; 6-speed transmission; YCC-T® and 2-position drive mode; traction control; ABS brakes; and adjustable seat; and electroniclly adjustable Suspension on the new Super Ténéré ES.
Key Features May Include:
The Super Ténéré ES is built for adventure, with an exceptionally compact 1199cc parallel twin using a unique 270° crank for excellent torque and traction. Engine mass is kept low for great handling. Narrow 2-cylinder inline engine is slim and compact for carving tight lines in twisty mountain roads.
New electronically adjusted suspension makes finding the right setting as easy as pushing a button. With four pre-load settings, three damping adjustments and an additional seven damping fine-tuning adjustments, the Super Ténéré ES suspension can be dialed perfectly to meet the needs of the rider, passenger and the amount of cargo and terrain.
Wide-ratio 6-speed transmission has the right gear, whether on the open highway or off-road.
Twin downdraft throttle body fuel injection with YCC-T® (Yamaha Chip Controlled Throttle) delivers optimum throttle control and acceleration. Two-position D-Mode (Drive Mode) throttle response mapping for rider preference.
Traction control lets the rider get on the gas with more confidence. This very advanced system regulates ignition timing, fuel injection and throttle valve opening based on wheel spin, providing a smooth response that is not abrupt like the competitors. Three modes available to match rider preference, including off.
Super Ténéré ES has both an Antilock Braking System (ABS) and Unified Braking System (UBS). With UBS, squeezing the front brake alone also provides some rear-wheel braking; pressing the rear brake first overrides UBS for traditional separate front and rear braking action.
Whether riding across town or crossing a continent, rider comfort and convenience are important. Super Ténéré ES delivers, with an adjustable seat height and windshield, tunable front and rear suspension, low-maintenance shaft drive, and more.
Multi-function carrier system on back is ready for optional luggage and touring accessories.
For 2014, the 1199cc twin features a new cylinder head design, new piston, and new exhaust for a modest increase in horsepower and torque that makes for an even more exciting engine character with more pulling power. The adjustments also result in stronger and smoother acceleration.

Year: 2014
Make: Yamaha
Model: Super Tenere ES
Type: Sport Touring
We also recommend