2008 Kawasaki Ninja ZX-10R Sportbike Cookeville TN
$6,999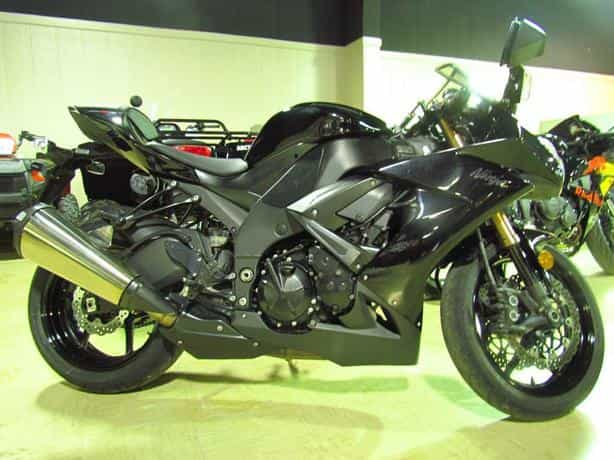 2008 Kawasaki Ninja ZX-10R, performer - KAWASAKI'S 2008 NINJA ZX-10R SUPERBIKE IS POISED FOR COMPETITION Factory superbike talent in a street savvy performer. For the 2008 NINJA ZX-10R, Kawasaki engineers aimed for an ideal superbike with engine and chassis performance capable of satisfying professional racers, combined with top-notch streetbike qualities for mainstream riders. It's a delicate balance, but these aren't your average engineers. They've been directly involved in the development of every 600- and 1,000-cubic-centimeter supersport machine since the 2003 Ninja ZX-6R, plus Kawasaki's factory Superbike racing efforts, so they have the know-how to deliver the goods. The result is an exceptionally communicative machine that provides the clean two-way rider / machine dialog demanded by professional racers. Placing the ZX-10R in the racing crucible and applying lessons from that unforgiving environment resulted in an ideal balance to satisfy the most demanding of riders. Japanese Superbike racer Akira Yanagawa was the man pushing the engine and frame components to the limits of their performance in actual competition. Parts that met with Yanagawa's approval were then tried on the production test bike, tweaked, retested on the racer and adjusted again. This process was repeated throughout the development cycle for the all-new 2008 Ninja ZX-10R.
Year: 2008
Make: Kawasaki
Model: Ninja ZX-10R
Type: Sportbike
Location: Cookeville, TN
Contact
Mid-State Motorsports
1191 S. Walnut Ave
Cookeville, TN 38501
(866) 573-3175
Mid-State Motorsports is a Full Service Yamaha and Kawasaki Dealer offering a complete line of Street Bikes, Cruisers, Dirt Bikes, ATVs, Side by Sides, and Personal Watercraft. With over 30 years in business, we have factory trained technicians for all of your service needs as well as parts and accessories departments. Call us toll free at 866-573-3175 for more information about this unit. All prices plus tax and title.
We also recommend