2014 Kawasaki Ninja ZX-14R ZX-14R Cruiser Chula Vista CA
Call for Price
2014 KAWASAKI Ninja ZX-14R, World-class Performance Meets Real World Flexibility Everything about the Ninja ZX-14R sportbike is big: Big displacement, big horsepower, big accolades. Life is pretty good at the top of the heap. When you make more power than any other production sportbike on the planet, as the ZX-14R does, the character of the power delivery is as important as the actual number of horses. To that end, the surface-milled combustion chamber shapes and polished intake ports provide the benefits of racings black art porting straight from the factory. Consequently, all elements of the induction system work in a coordinated manner, maintaining the Ninja tradition of smooth power delivery.
Year: 2014
Make: Kawasaki
Model: Ninja ZX-14R
Contact
Southbay Motorsports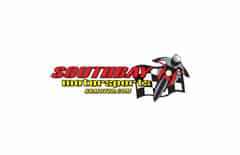 1890 Auto Park Place
Chula Vista, CA 91911
(866) 612-9030
Southbay Motorsports, located in Chula Vista, California, is your one-stop shop for Ducati, Honda, Kawasaki, Polaris, Suzuki, Victory, Yamaha, E-Ton motorcycles, atvs, watercraft, scooters, utility-vehicles. We carry and service popular brands of motorcycles and ATVs, as well as scooters, watercraft, and utility-vehicles for your recreational needs. We also carry a wide array of helmets, tires, accessories, apparel, parts and more!
We also recommend