2014 Kawasaki KX100 Mx New Haven CT
$4,399
2014 Kawasaki KX100, SAVE thru 10/31/2014 - A New Challenger Helps Riders Prepare for the Big Time! The Kawasaki KX100 represents a natural step in the progression of any budding young motocrosser who has outgrown the 85's, but could still stand to grow a few more inches, gain a couple more pounds or simply put in a little more seat time before jumping aboard a powerful, full-sized KX250F. The new KX100 offers the perfect blend of a proportional power increase and a physically larger chassis for a more gradual learning curve en route to the big bikes.
Year: 2014
Make: Kawasaki
Model: KX100
Type: Mx
Contact
New Haven Powersports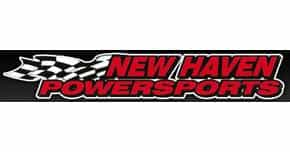 143 Whalley Ave
New Haven, CT 06511
(855) 851-3721
New Haven Powersports has won numerous service and sales awards from Aprilia, Suzuki and Kawasaki. We have 5 full time service technicians who have over 100 years of combined experience in motorcycle and ATV repairs. We repair all makes and models of motorcycles so please contact us if you have any questions.
We also recommend