2013 Kawasaki Ninja ZX-10R Sportbike New Haven CT
$12,799
2013 Kawasaki Ninja ZX-10R, Our Demo Bike - A Combination of Superlatives The 2013 Ninja ZX-10R superbike continues to astound passionate motorcyclists with its level of technology, reliability, and the intense feelings that envelope anyone throwing a leg over this potent liter bike. It represents what can be achieved by the finest engineers when an appreciation of speed and design are applied to a motorcycle, without the desire to be anything other than the absolute best.
Year: 2013
Make: Kawasaki
Model: Ninja ZX-10R
Type: Sportbike
Contact
New Haven Powersports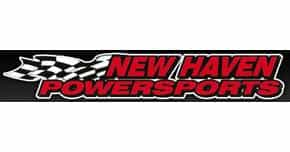 143 Whalley Ave
New Haven, CT 06511
(855) 851-3721
New Haven Powersports has won numerous service and sales awards from Aprilia, Suzuki and Kawasaki. We have 5 full time service technicians who have over 100 years of combined experience in motorcycle and ATV repairs. We repair all makes and models of motorcycles so please contact us if you have any questions.
We also recommend