2014 Honda GL1800C Gold Wing Valkyrie Cruiser Palestine TX
$17,999
2014 Honda GL1800C Gold Wing Valkyrie, NOW IN STOCK - Honda launched the original Valkyrie by riding it down the stairs into a smoke-filled underground Blues club in Chicago. Yes, it had that kind of cachet. The press were stunned, here was a motorcycle no one expected; the mild mannered Gold Wing super-tourer stripped down to its hot rod heart. The original Valkyrie was the love child of an in-house skunk works team at Honda, who knew that the Gold Wing platform had the potential to offer so much more to performance minded cruiser riders. So outrageous was its performance that even American V-twin riders nodded in grudging respect when they encountered one of these 1,500 cc six-cylinder brutes on the street. First released in 1996, the Valkyrie was a strong favorite with press and riders alike, all the way through till 2003, and was renowned for the siren music that emanated from its six concealed exhaust outlets. Then suddenly, it was gone, and legions of fans were left singing their own blues. Well faithful fans, the wait is finally over, the new GL1800C Valkyrie is here, bigger, badder, and better than ever. Staying true to the original concept, the new Valkyrie is based on a Gold Wing stripped down to the bare essentials. The glorious 1,832 cc flat-six is retained, as is the rigid twin-spar aluminum frame and aluminum single-sided swingarm. The rear shock has been retuned to sportier settings and the stout 45 mm cartridge front fork has been lengthened and features upgraded internals. Bigger ABS brakes provide the stopping power while one-inch taller wheels and repositioned footpegs increase cornering clearance. At a full 150 lbs. less than a Gold Wing, the Valkyrie really hauls and it looks good doing it with LED lights throughout, minimalist bodywork, blacked out engine, shorty exhaust and removable passenger seat. Power, handling and performance with long distance comfort and a unique style all its own, the new Valkyrie is destined for greatness. GL1800C - Hot rod heart.
Year: 2014
Make: Honda
Model: GL1800C Gold Wing Valkyrie
Type: Cruiser
Location: Palestine, TX
Contact
H & W Honda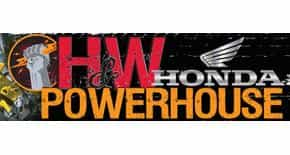 1534 East Palestine Avenue
Palestine, TX 75801
(888) 626-3050
H&W Honda of Palestine Texas is your one stop site for sales, parts, financing, and service. H&W Honda is a family owned dealership that started with a different approach to selling, offering competitive pricing, but not leaving out whata??s important, customer service. Today youa??ll still find that great customer service, and rock bottom pricing in our web department, as well as at our 2 locations to serve you.
We also recommend