2012 Honda CRF450R Marietta OH
$8,440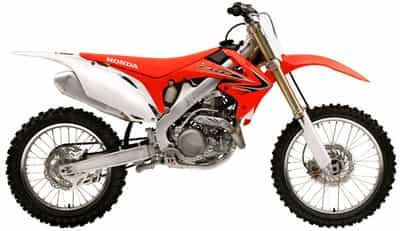 2012 Honda CRF450R, BRAND NEWThe best 450 on the track better than ever.
Honda s awesome CRF450R has taken the lead in the four-stroke motocross revolution, and it s still way out in front. To keep it there, we ve given the king of the open class some serious updates for 2012. With a machine like this, anything less than perfection is unacceptable and the 2012 CRF450R gives you the perfect balance of open-class Honda power, refined suspension, and the best brakes in the business.
First, we ve changed the rear shock linkage so you get a softer start and a stiffer finish. It responds to small bumps better, but still resists bottoming over really big hits. Fine-tuning the rear travel helps with steering during hard braking and on long, fast downhill sections. At the front, new fork outer tubes are stiffer for better feedback and superior tracking in heavy dirt, mud, and sand sections. New springs and suspension settings front and rear keep the balance right and increase steering precision. And we ve even given the 2012 CRF450R wider, longer footpegs for better grip and comfort and fitted it with premium Dunlop MX51 tires for superior traction in corners and under acceleration.
All in all, the CRF450R is the most dialed-in open-class MX bike we ve ever rolled up to the start gate. That, combined with its legendary power, makes it the machine serious riders will be campaigning in 2012.
Year: 2012
Make: Honda
Model: CRF450R
We also recommend