2015 Harley-Davidson FLRT - Freewheeler Trike Dumfries VA
Call for Price
2015 Harley-Davidson FLRT - Freewheeler, 2015 Harley-Davidson FLRT FREEWHEELER, Twin Cam 103 Engine with 6 Speed and Oil Cooler and Reverse. 2015 Harley-Davidson® Freewheeler Hot rod-inspired style and a smaller, easy-handling size make the new Freewheeler model unlike any other trike on the road. Confidence comes instantly in this saddle. Key Features May Include: Project RUSHMORE - Engine As every rider knows, the engine is at the heart of the experience of riding a motorcycle. The amount of torque and horsepower it delivers over the RPM range is in direct proportion to the feeling it gives you when you roll on the throttle. We know what riders want from a motorcycle engine because we ve been building them for 110 years. Project RUSHMORE gave us the opportunity to dial it in just right. We conducted thousands of road tests with real riders giving us feedback to build the next iteration of the legendary Harley-Davidson® engine. The consensus was: We want more. More low-end torque, more passing power, more perfection in the tone of the exhaust note, more of the feeling we ride a motorcycle for. So we built the engines that deliver it. We re proud to unveil the next level of Harley-Davidson® V-Twin engine. And prove once and for all, the customer is always right. Full-Length Footboards & Toe/Heel Gear Shifts Your boots were made for riding any way you see fit. Our full-length footboards boast a time-tested, tried-and-true design and rubber isolation for a comfortable ride, while the height-adjustable passenger boards add another level of customizable comfort for your riding partner. And for shifting gears, you can use either the traditional toe-shift or the even easier, more convenient heel-shift. It might take a few rides, but once youve gotten used to the smooth shifting rhythm, youll never give it up. Project RUSHMORE - Styling Project RUSHMORE is the journey we set out on to take our touring motorcycles to places never imagined before to turn all the possibilities for what a motorcycle can be now into true Milwaukee steel. We did it our way, as we ve always done. As riders. Riding with other riders. Thousand of hours, countless road tests, millions of miles. Looking for the technology and innovations that truly make the ride better. We went over the bike fender tip to fender tip. Making it work better. Making it look sleeker. Modern. Clean. Tight. Let your eye take a journey over the machine. This is classic Harley-Davidson style and a sleek, modern look at the exact same time. At Harley-Davidson, form has always followed function. And both have always reported to emotion. Now we re just doing it on a completely different level.
Year: 2015
Make: Harley-Davidson
Model: FLRT - Freewheeler
Type: Trike
Contact
Harley Davidson of Quantico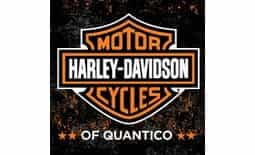 17975 Main Street (Route 1)
Dumfries, VA 22026
(866) 299-7809
Who are we? We are a group of 30 plus people. We ride (but never enough), love motorcycles (particularly Harley-Davidson), understand the product AND the Dream, have husbands, wives, kids, are educated and come to work every day to make your Harley-Davidson experience enjoyable and rewarding.
We also recommend