2006 Harley-Davidson Sportster 883 Custom Cruiser Canton OH
$5,299
2006 Harley-Davidson Sportster 883 Custom, INTERNET SPECIAL - For decades, fun could best be defined as a potent engine sitting dead center in a strong, agile frame with nothing but miles of winding asphalt ahead. As long as we keep building and refining the Sportster, that definition will stay true. If you've never swung a leg over, you should. Once astride, twist the throttle and feel the V-Twin generate mounds of torque. It's a satisfying rush that hits you right in the pit of your stomach. We rubber-mounted the engine to the frame for a more comfortable ride — no road is unfamiliar territory, no journey too far. And though riding a Sportster has always been a blast, we keep finding more ways to make things even more rider friendly. We redesigned the transmission so it shifts smoother. Take a quick trip through the gears and you'll no doubt appreciate the near-effortless clutch. There's also improved kickstand ergonomics — now the bike is easier to reach and lift. The pure American street machine just keeps getting better. The only thing better than a street-eater is a custom street-eater, like the Sportster 883 Custom you see here. We begin by giving it the smooth-operating, rubber-mounted Evolution engine and 4.5-gallon tank. Then we go to work from there. We raise the handlebar, lower the suspension, and give it easy-to-reach forward foot controls. It all makes the riding position feel right. The custom look wouldn't be complete without a 150 mm rear tire. Chrome Profile Laced wheel options available for both front and rear. And for the finishing touch, we even gave this ride a sleek two-up seat. Because the only thing better than eating up miles of endless asphalt is sharing the experience. For a limited time, we are offering one-of-a kind, custom color combinations that are over and above the standard two-tone color options available during the model year. These limited color combinations come with a custom decal that is only available through the Custom Color program. Each color has unique complementing pinstripes.
Year: 2006
Make: Harley-Davidson
Model: Sportster 883 Custom
Type: Cruiser
Location: Canton, OH
Contact
Hardings Park Cycle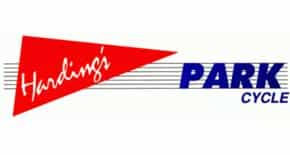 4330 Kirby Ave NE
Canton, OH 44705
(866) 413-2307
Hardings Park Cycle currently sells and services Honda, Yamaha, Kawasaki, Suzuki and Triumph as well as Tomos mopeds and DRR ATVs. Additionally, our used inventory is second to none. Hundreds of thousands of dollars of in-stock parts and accessories compliment our HUGE vehicle inventory.
We also recommend