2004 Harley-Davidson FLSTC/FLSTCI Heritage Softail Classic Cruiser Columbia TN
$9,995
2004 Harley-Davidson FLSTC/FLSTCI Heritage Softail Classic, Great Low Price, Great Condition and Great Accessories. Call 877-251-2453 - Check it out. It has #HD Flame Grips. Look (and hear) these VAnce & Hines Exhaust with the Stage 1 Kit. This one has a Upgraded Engine Guard and Passenger Footboards. Oh yeah, it has a fresh 10k Service. You wouldn't be surprised to unearth a beauty like the Heritage Softail Classic under a dusty cloth in Grandpa's barn. With studded leather bags, big fenders, giant chrome headlight and passing lamps. For the rider who dreams of classic style, there could be nothing better. But those seeking a modern-day machine will also find this an ideal ride. See the Twin Cam 88B engine for evidence. It's eighty-eight cubic inches of refined internal combustion. We rigid-mounted it, but two ingenious counterbalancers cancel out all but the good vibrations. Choose it with carb or EFI. There's a hidden rear suspension. Wire-laced wheels inside blackwall tires. And a low seat height. So no matter what kind of bike you like, it's easy to swing a leg over this one. Availability of colors may vary from dealer to dealer, and is subject to change without notice.
Year: 2004
Make: Harley-Davidson
Model: FLSTC/FLSTCI Heritage Softail Classic
Type: Cruiser
Location: Columbia, TN
Contact
Harley-Davidson of Columbia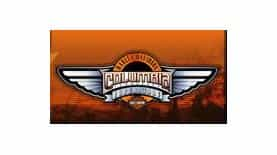 1616 Harley Davidson Blvd
Columbia, TN 38401
(866) 879-1056
Dont miss out on the greatest selection of the ULTRA HOT Streetglides, Electra Glide Ultra Classics, and Electra Glide Classics, Road Glides, Dynas, Vrods and Sportsters from #1 Pre-Owned Dealer in the USA! 200-300 Pre-Owned in stock we have whatever your are looking for! Tons of Softails, Dynas and Touring in stock for less than $12,000. Always a HUGE selection of Sportsters. No One offers better selection, quality or pricing. Call today !!
We also recommend